Platte Valley Medical Center
Brighton, CO
3rd Floor Remodel Art and Environmental Design Package
With Boulder Associates
In finishing out an unusually shaped shell of the hospital's third-floor west wing, the design challenges that arose sparked a collaboration among Boulder Associates Architects, hospital staff, former patients, community members and patient advocates. The project's atypical, fish-like footprint required multiple levels of assessments and input to reach its creative breakthroughs in design and usage. That thoughtfulness included the art program, for which PS Art Consulting participated in a number of its own inventive solutions.
Lining the curved corridor are pieces chosen for their uplifting colors, interesting textures and lines, and even a few surprises. Doubling up on opaque glass doors as canvas, PS Art Consulting designed custom window films of native grasses and local botanicals. In each of the 28 patient rooms, white boards were incorporated into these films on the door to the toilet rooms, freeing up wall space for original, commissioned, framed fine art. An original piece used as the basis for a mural in the central space, surrounded by more large-scale landscape-inspired environmental graphics, including two custom murals on high-quality wall coverings.
Behind the nurses' station, a wall of ceramic succulents by regional artist April Cannon introduces the shapes and colors of plants, a calming scene in an at-times stressful atmosphere. At another nurses' station Georgia Rowswell fabric landscape incorporates fabric items donated by the staff, allowing employees to become a part of the art program.
The gallery effect is a most spectacular addition to this beautifully renovated floor, welcoming to all patients, visitors and staff — clearly a holistic effort by everyone involved for the ultimate mind-body-spirit connection.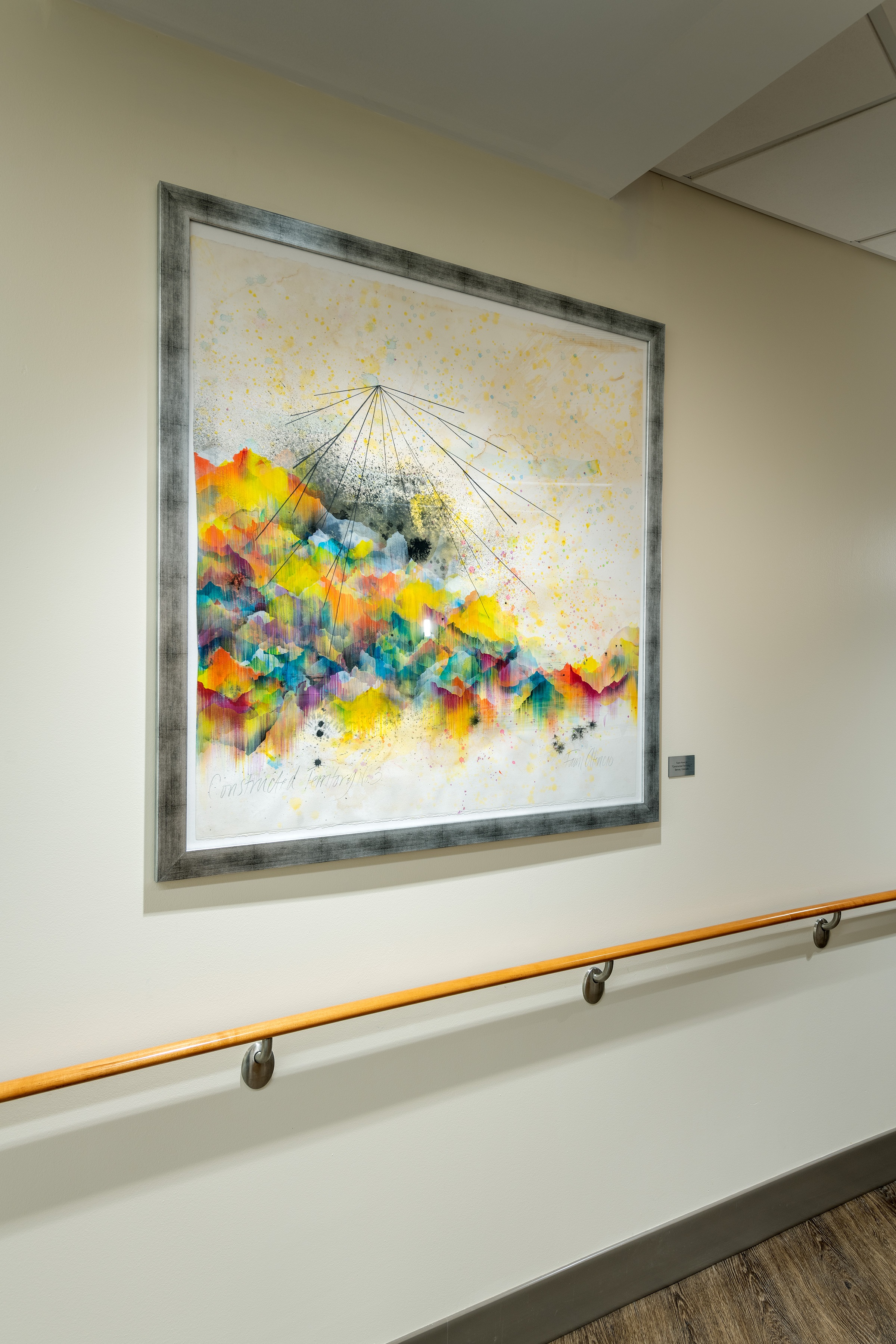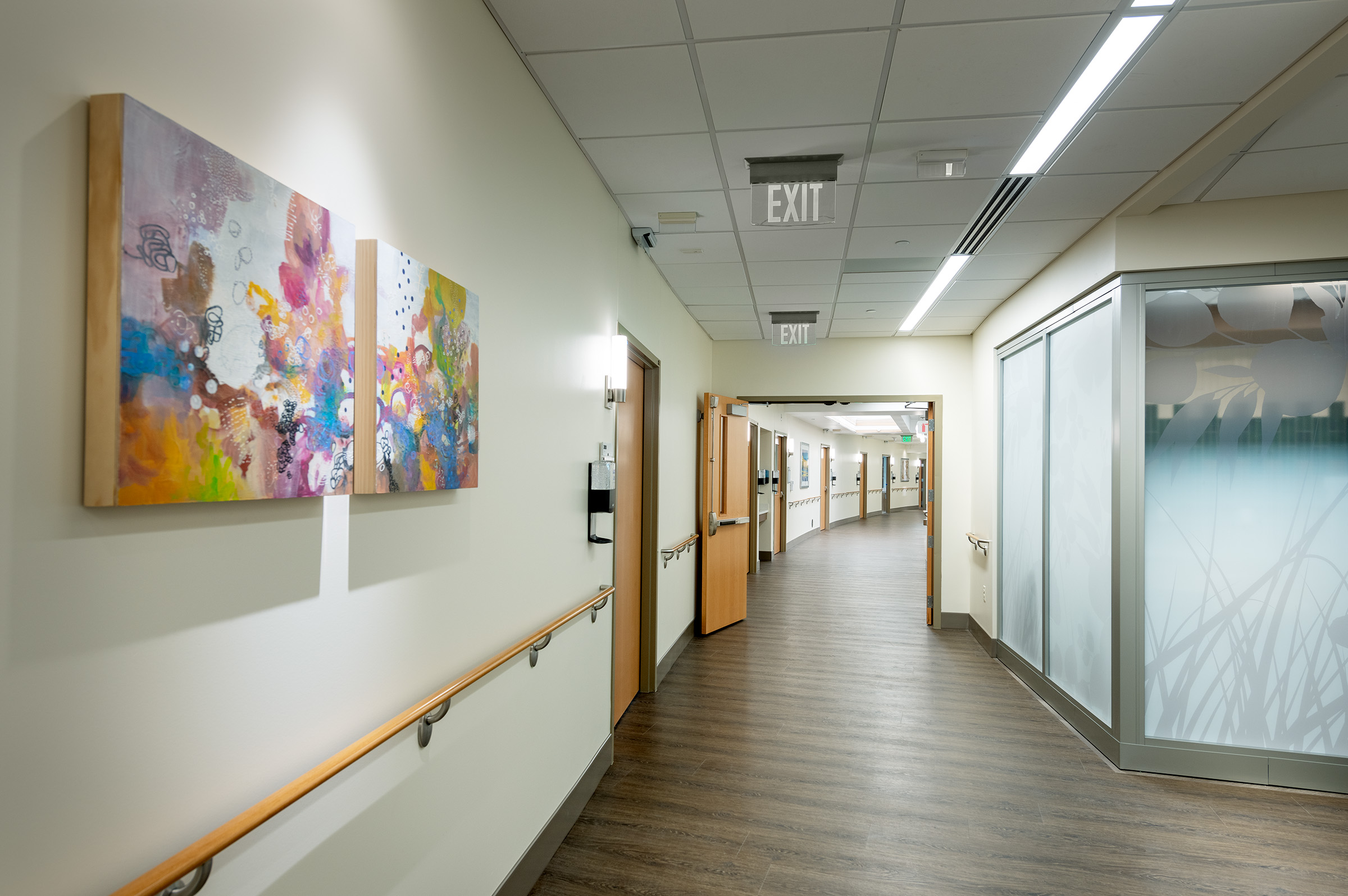 St Joseph's/Candler Ambulatory Services Hub
Pooler, Georgia
Two-story feature wall and Art Package
With Design Studio Blue
Designed by Architect Gresham Smith, this 10-year, multi-phased project brings a broader range of services to the growing community west of Savannah. Phase I, an 83,000-square-foot campus, was completed in 2019. PS Art Consulting conceived of and designed the two-story feature wall upon entry, utilizing a versatile resin material. Colorful, translucent panels float between floors, giving patients both a sense of presence and privacy.
Down the hallways, a colorful backdrop of photos visually tell the story of the surrounding environment. We commissioned a local photographer to shoot landscapes and landmarks for a number of pieces produced for the walls. From marshlands and hay bales to railroad tracks and green pastures, familiar images connect people to place.
Boulder Community Health
Della Cava Family Medical Pavilion
Boulder, Colorado
Environmental Graphics, Garage Panel Design*
With Boulder Associates*designed while at Boulder Associates
After being one of the lowest-ranked states for mental health care, Colorado's Boulder Community Health responded with major fundraising to build the most modern facility in the state. This 70,000-square-foot complex exemplifies Boulder County's commitment to serving well its citizens with mental illness, as well as marks a strategy to make itself the healthiest community in the country with innovative services and inspiring design.
As such, the design concept is biophilic, incorporating representations of nature — grasslands, trees and water inspired by area surroundings — throughout the project, which have been scientifically shown to reduce stress and expedite healing. Every aspect, from windows, lighting systems, gardens, art, and even the garage, aid in that process. We designed perforated metal panels on all four sides of the parking garage that depict nearby majestic Cottonwoods. In fact, Boulder Creek inspired the entire story of graphics and environmental art. When considering art for the three-story stairway atrium, we concepted the story and art directed original photography during the fall for three 12-foot panels to be installed vertically. The connection to nature is clear, while subtle cues to wayfinding progress up each level, from creek to creek bed to cottonwood canopy. Also, we had a hand in the custom wood donor recognition "plaques."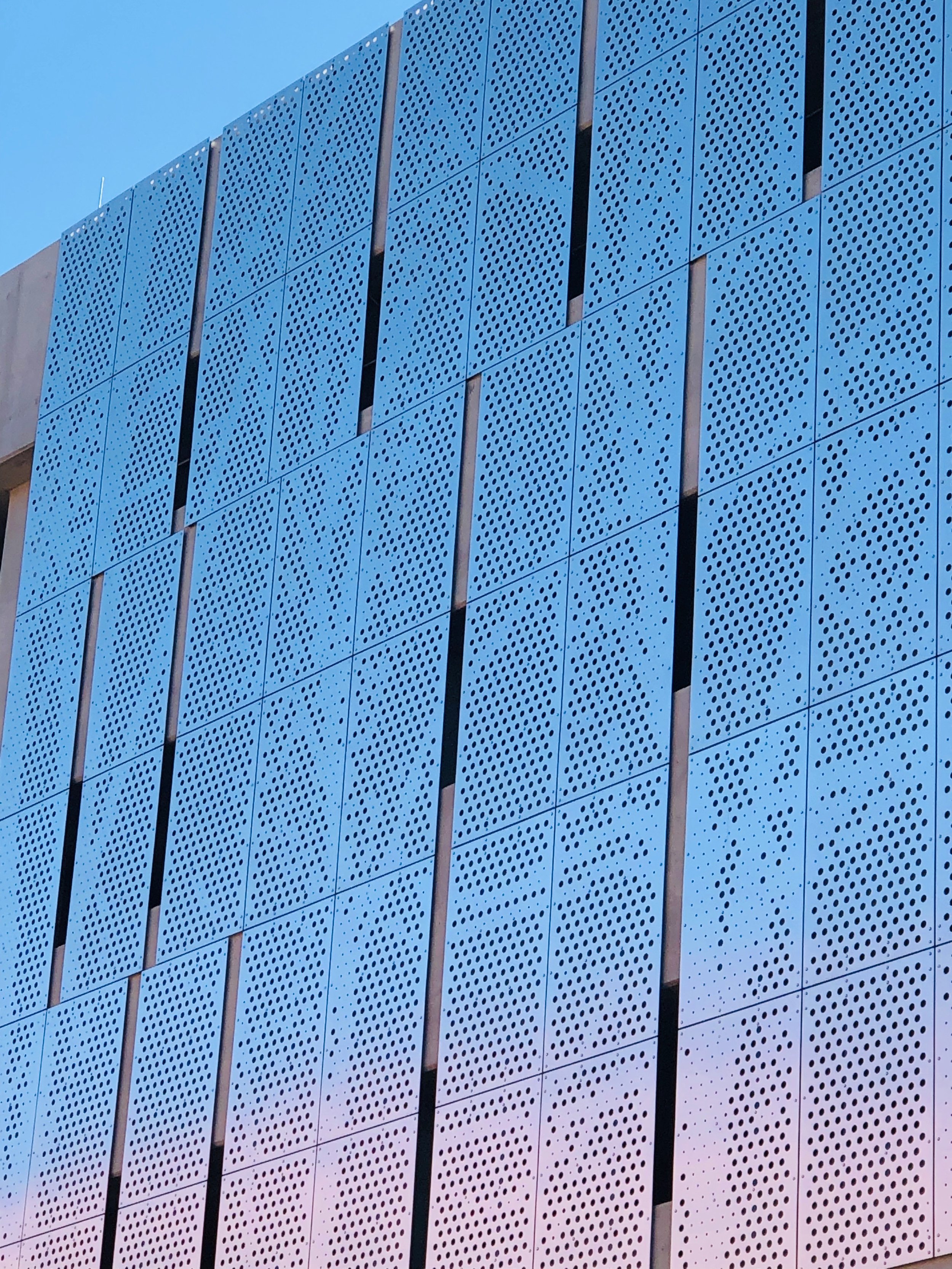 Mental Health Center of Denver
Dahlia Campus for Health & Well Being
Denver, Colorado
Dahlia Campus Art and Environmental Design Package
Following the lead of Denver's Anderson Mason Dale Architects' award-winning design
for a comprehensive activity center focused on healthy, fun and educational services,
PS Art Consulting matched the campuses' vibrant environment with more than 40 pieces of framed and stretched art, environment graphics and custom fabricated displays. Building a strong community is a priority of the campus, which invites all neighbors to participate in activities. Because of this tight-knit focus, we sought local artists to tell the stories of the place where their clients live and work. The art extends one more healing modality in addition to the center's many supportive services that help individuals, families and children flourish.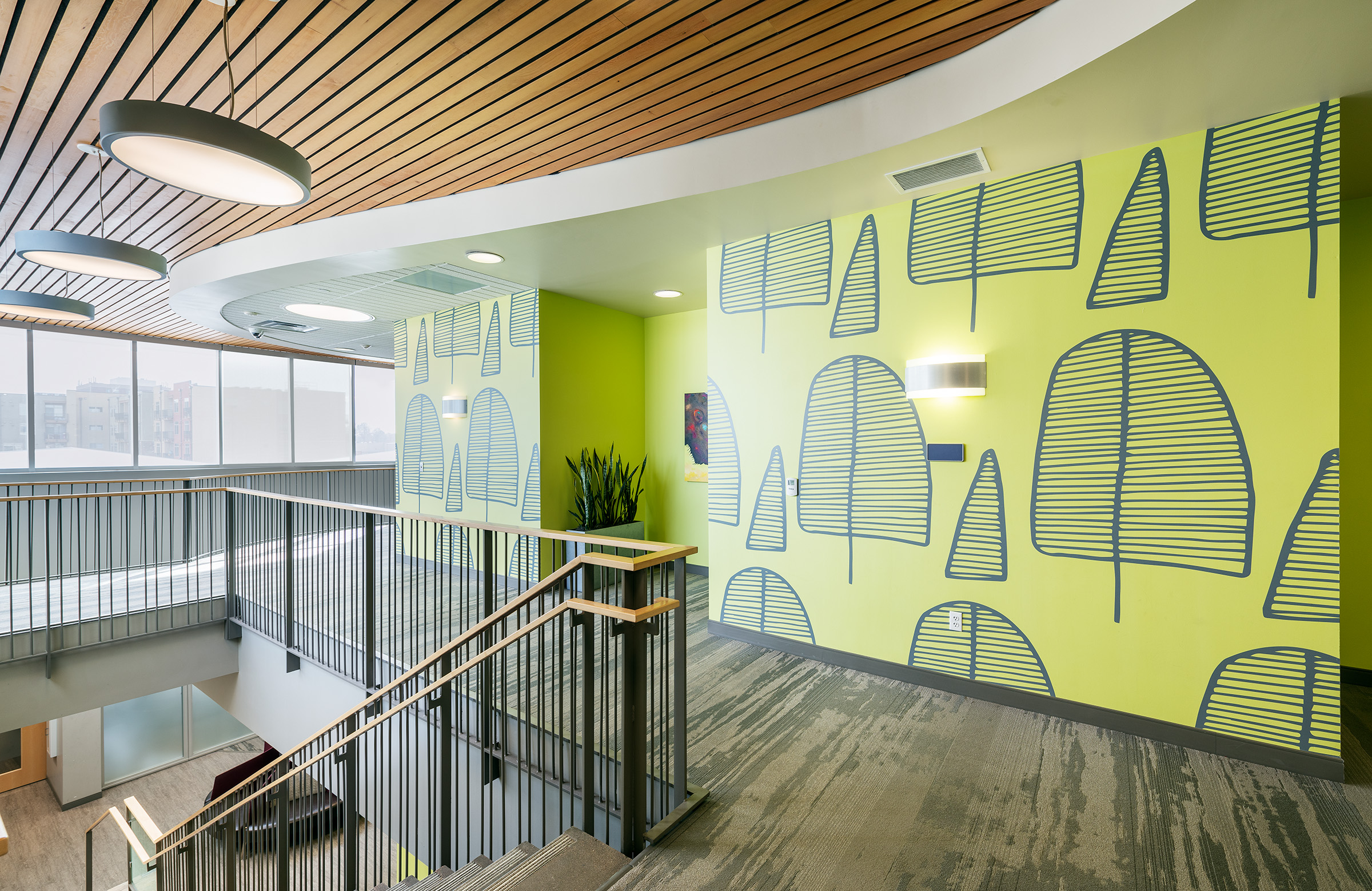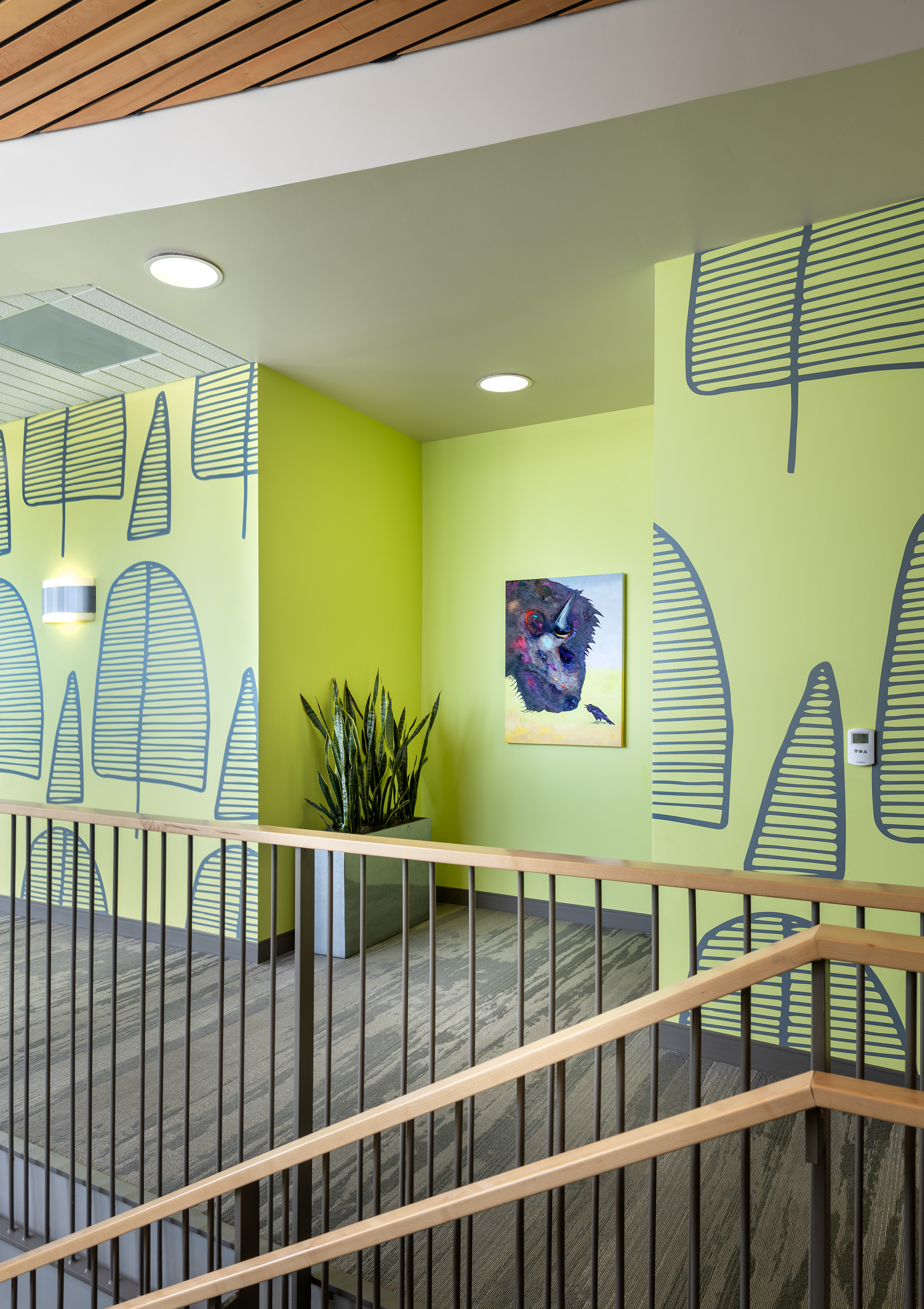 Porter Adventist Hospital
Denver, Colorado
Cafe and Servery Remodel Art and Environmental Design Package
With Boulder Associates
A gorgeous project that allowed for PS Art Consulting to highlight many of our strengths as a team. This project has it all- framed original art, commissioned encaustic paintings, heritage wall graphics comprised of large glass panels with custom-made hardware to highlight the history of Porter, custom wall covering murals, dimensional wood storytelling wall for the Global Health Initiatives feature, plus wayfinding and signage.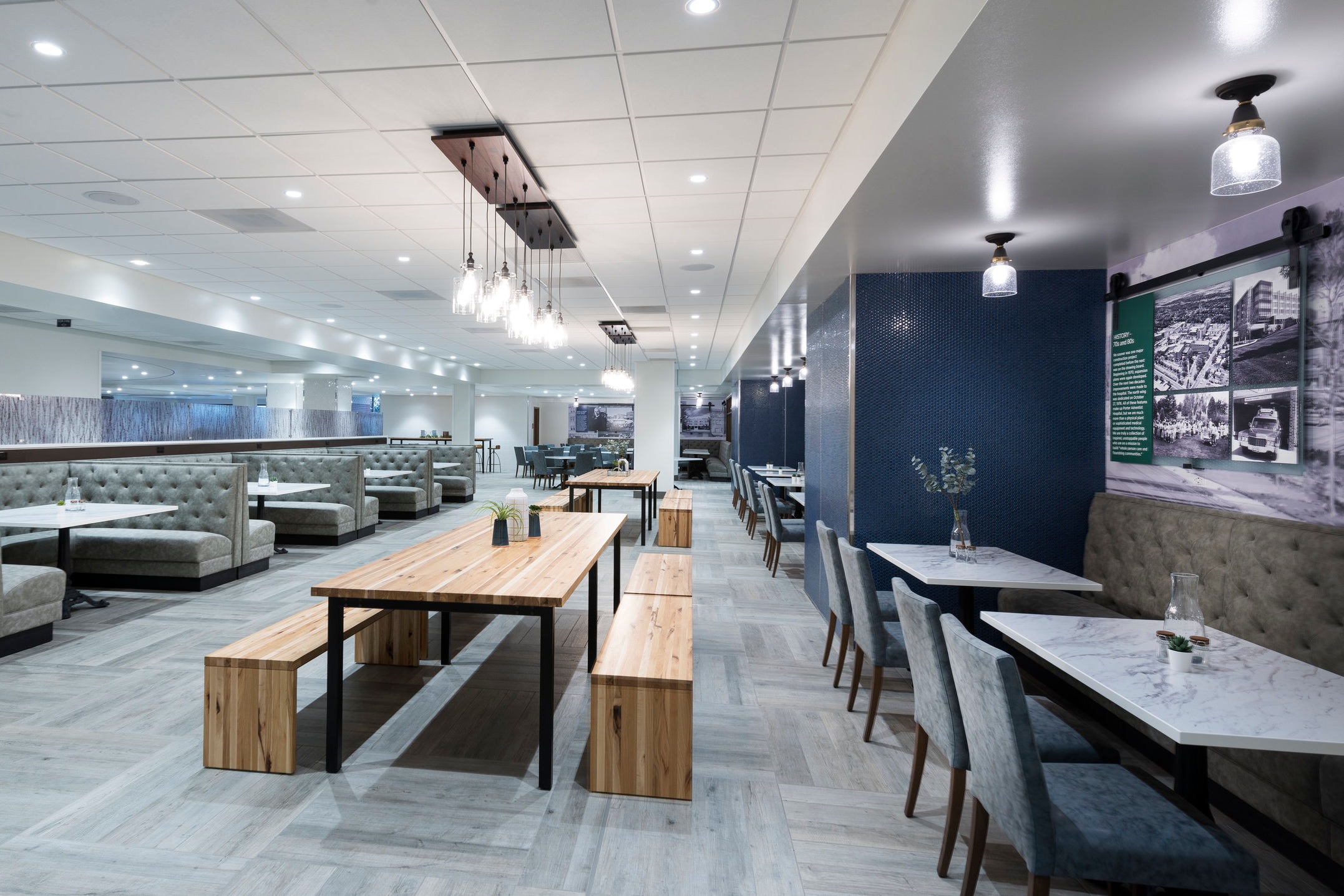 Porter Adventist Hospital Creation Health Wall
Denver, Colorado
Porter Adventist Hospital Creation Health Wall
With Boulder Associates
As part of the phased in remodel of the cafe area, the client expressed interest in designing a feature area, just outside the cafe and servery, that would highlight the Creation Health story. The story is one of lifestyle transformation designed to live life to the fullest by focusing on eight universal principles of whole person health. Utilizing the eight tenants, we designed a wall of lighted art that will be changed out seasonally. This easy to use system allows their own facility crew to successfully remove and install new graphics on selected dates. Inspiring for patients and staff, the installation keeps things fresh and provides a moment of reflection.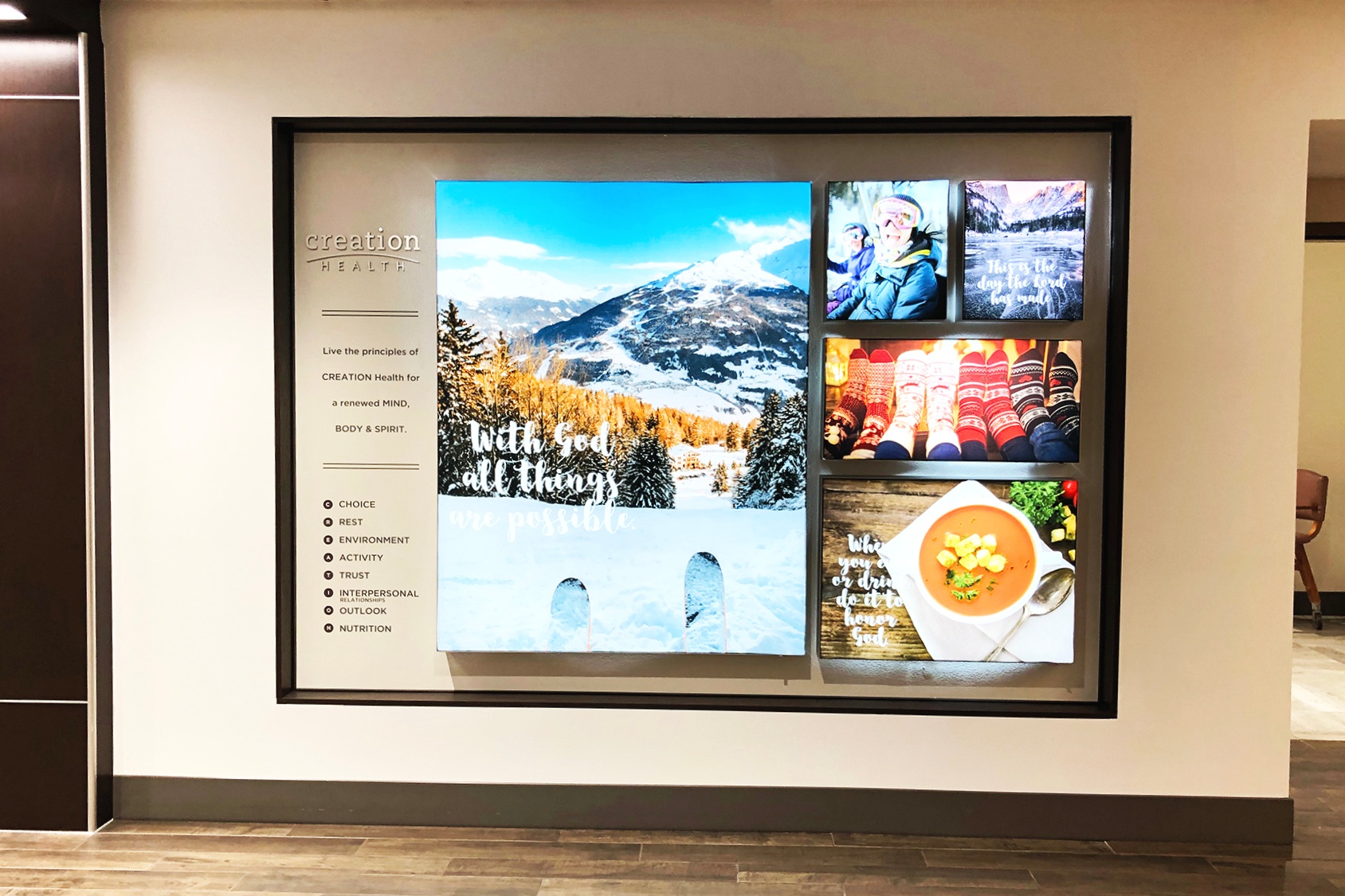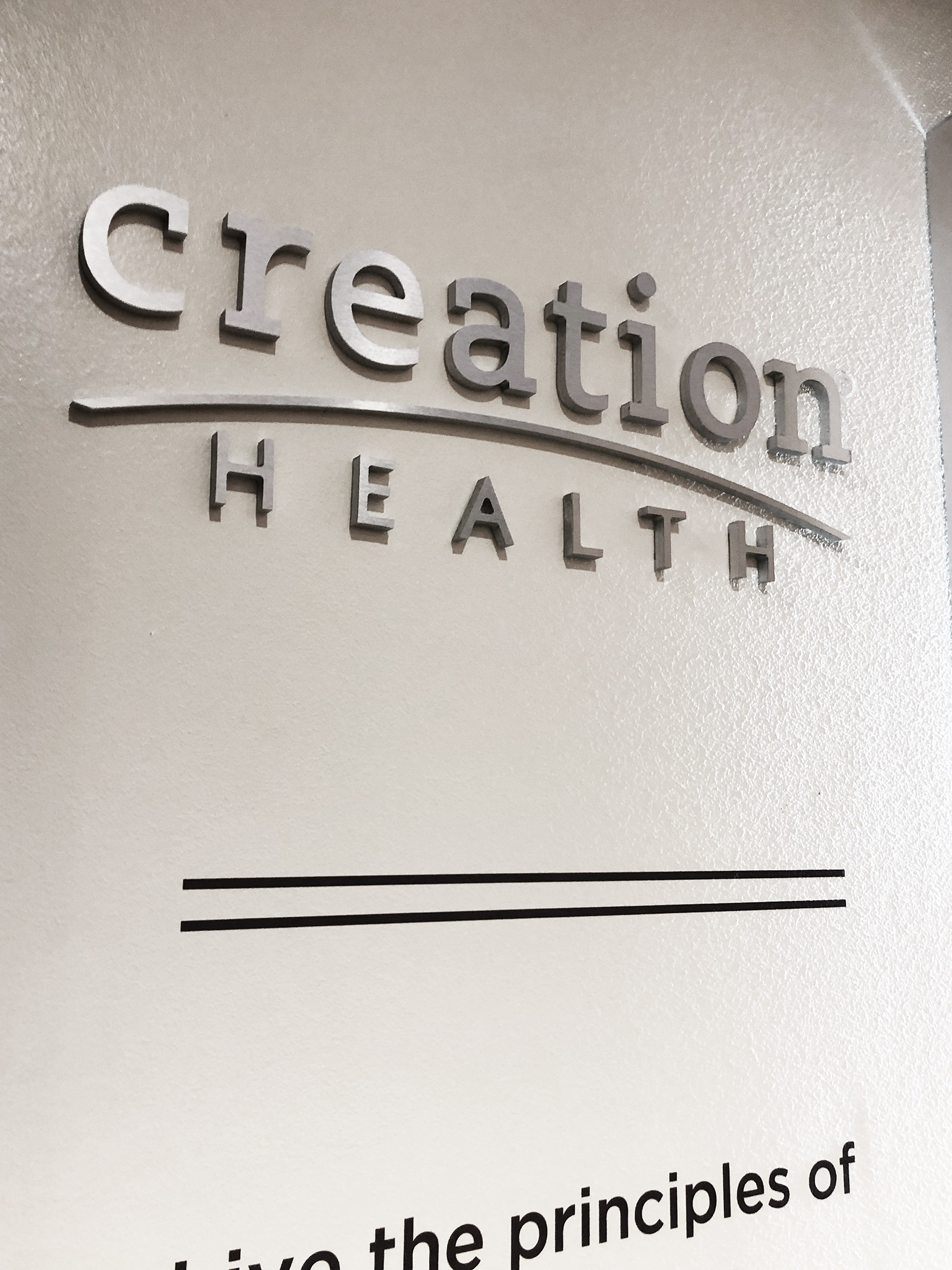 Claire's Place UMC Children's Hospital
Las Vegas, Nevada
Claire's Place Playroom, University Medical Center Children's Hospital
With Design Studio Blue
Claire Wineland lived with cystic fibrosis her entire life. At the age of 13, she founded Claire's Place Foundation, Inc., a non-profit organization providing support to children and families affected by cystic fibrosis. Using Claire's own hand sketches, the design team brought in PS Art Consulting to bring her vision to life with custom murals, 3D custom painted planets and a dedication plaque to Claire herself. The playroom will carry on her legacy of compassion by providing pediatric patients with a bright, functional space for a wide range of activities, games and play therapy alongside the hospital's child life specialists.
Boone Hospital
Columbia, Missouri
Boone Hospital Center, Main Campus, New Patient tower.
Project done through H&P Consultants. Photo credit L.G. Patterson
The theme of the art displayed in this brand new patient tower speaks to nature, but in such a variety of ways that everyone can find something to love. This project features predominantly local/regional artists.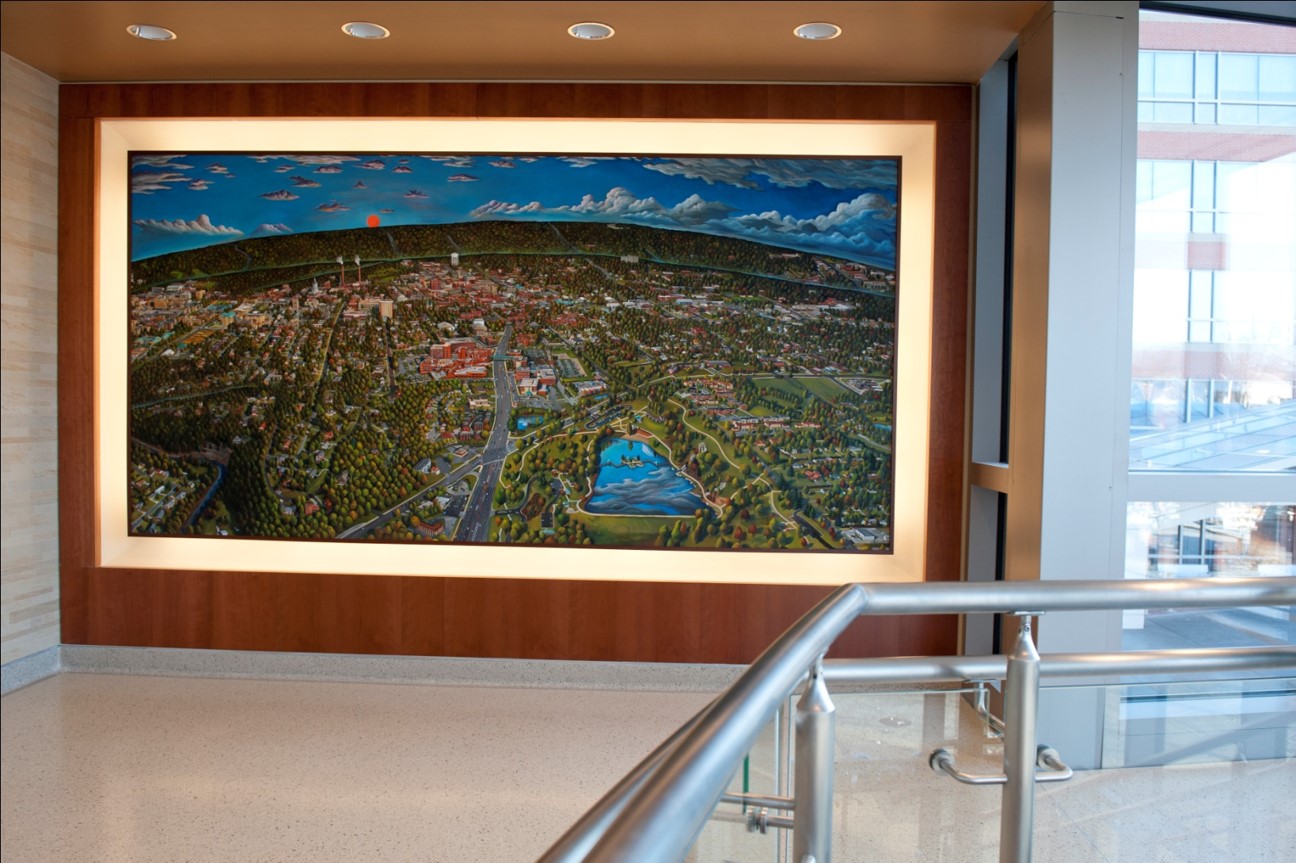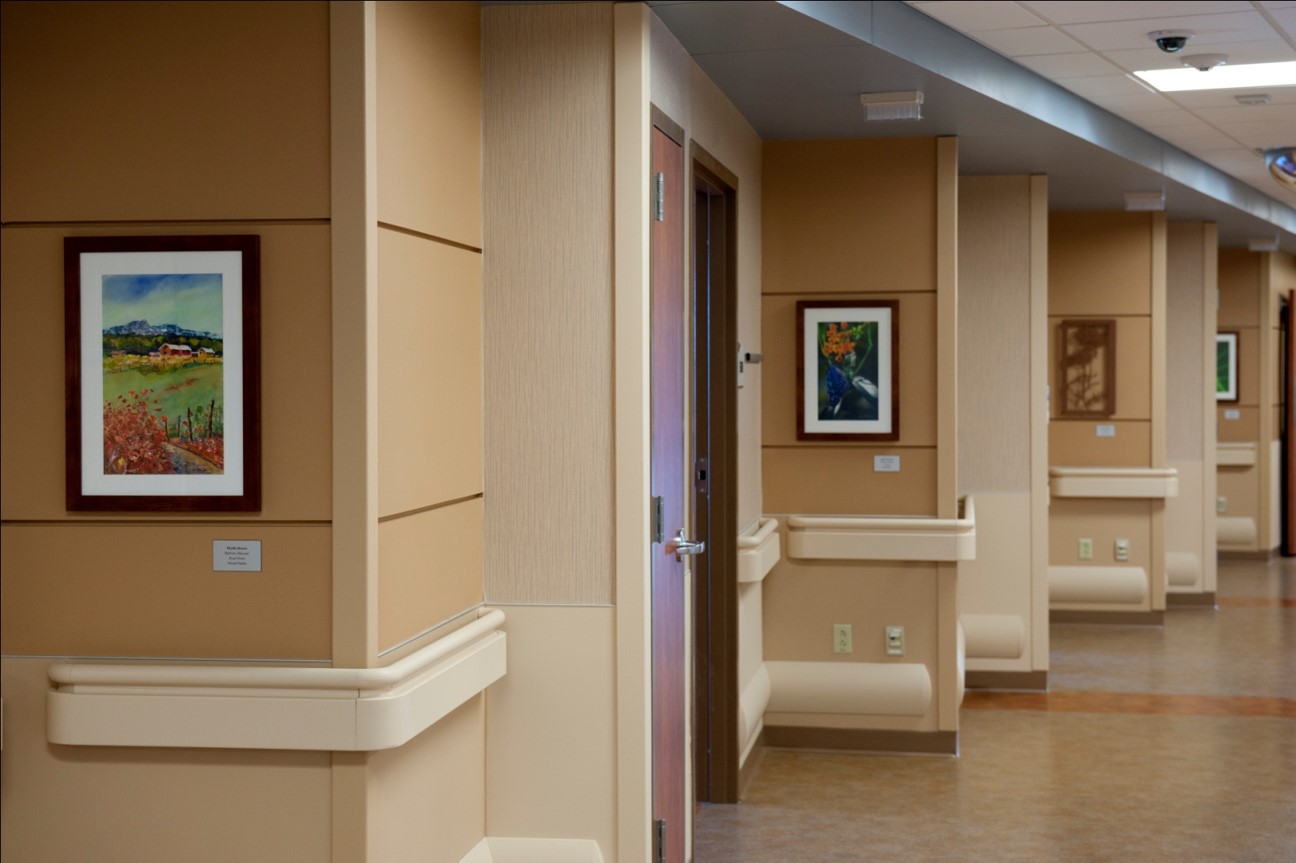 St. Joseph's Hospital
Savannah, Georgia
Emergency Department expansion and outpatient lobby renovations.
Project completed through LewisGraham Art Consultants with Design Studio Blue.
Photo credits Harlan Hambright Photography.
Working with the interior designer, marketing director and VP of Ancillary Services we created a theme of "Subtle Savannah" by nodding to the surrounding community without being too obvious. This project used all local/regional artists.
CU Sports Medicine and Performance Center
Boulder, Colorado
Project completed through LewisGraham Art Consultants with Boulder Associates
This state of the art facility wanted sports to be the main focus. Two feature components are abstract sculptures made out of bike parts and metal silhouettes of atheletes in action.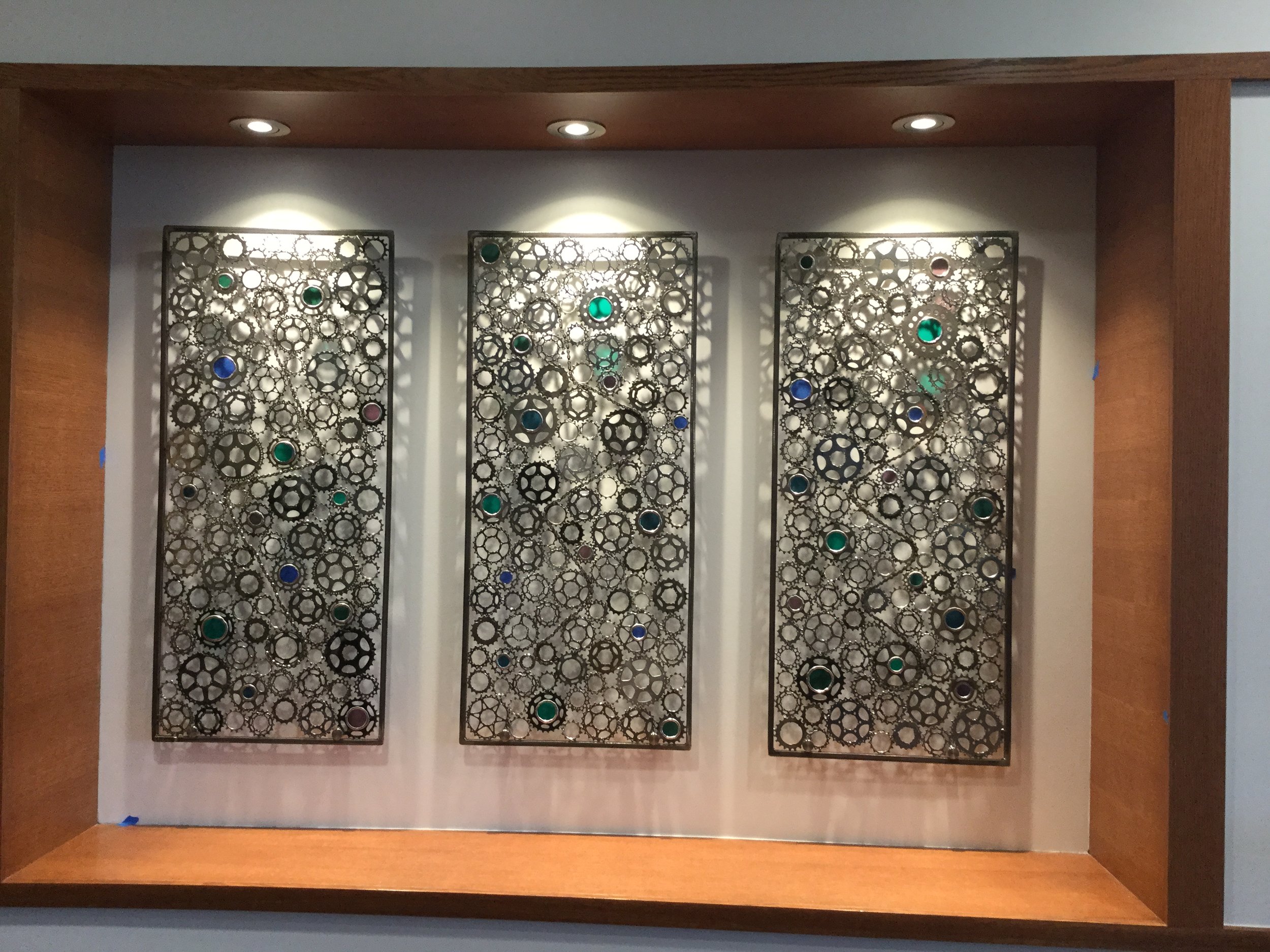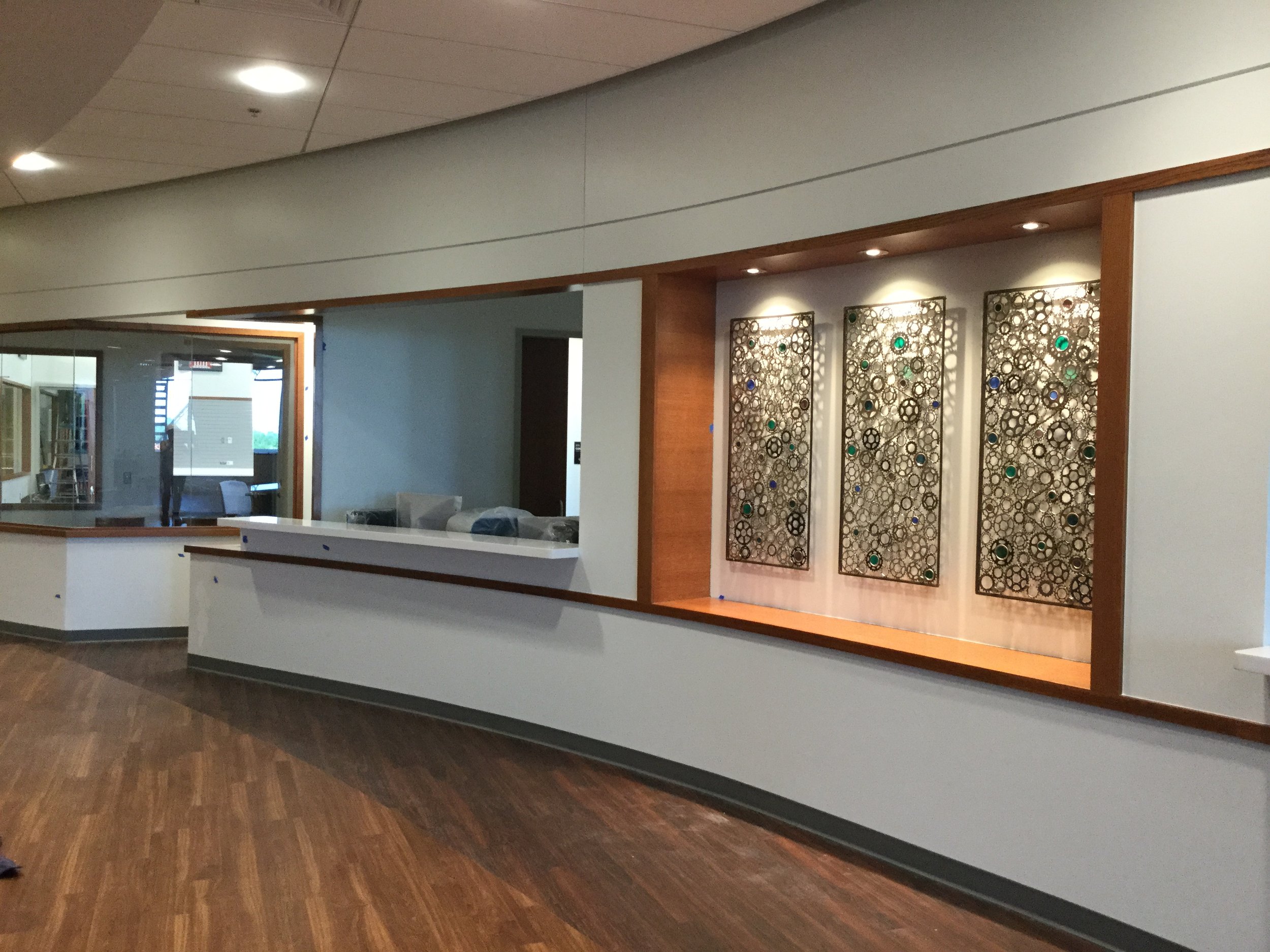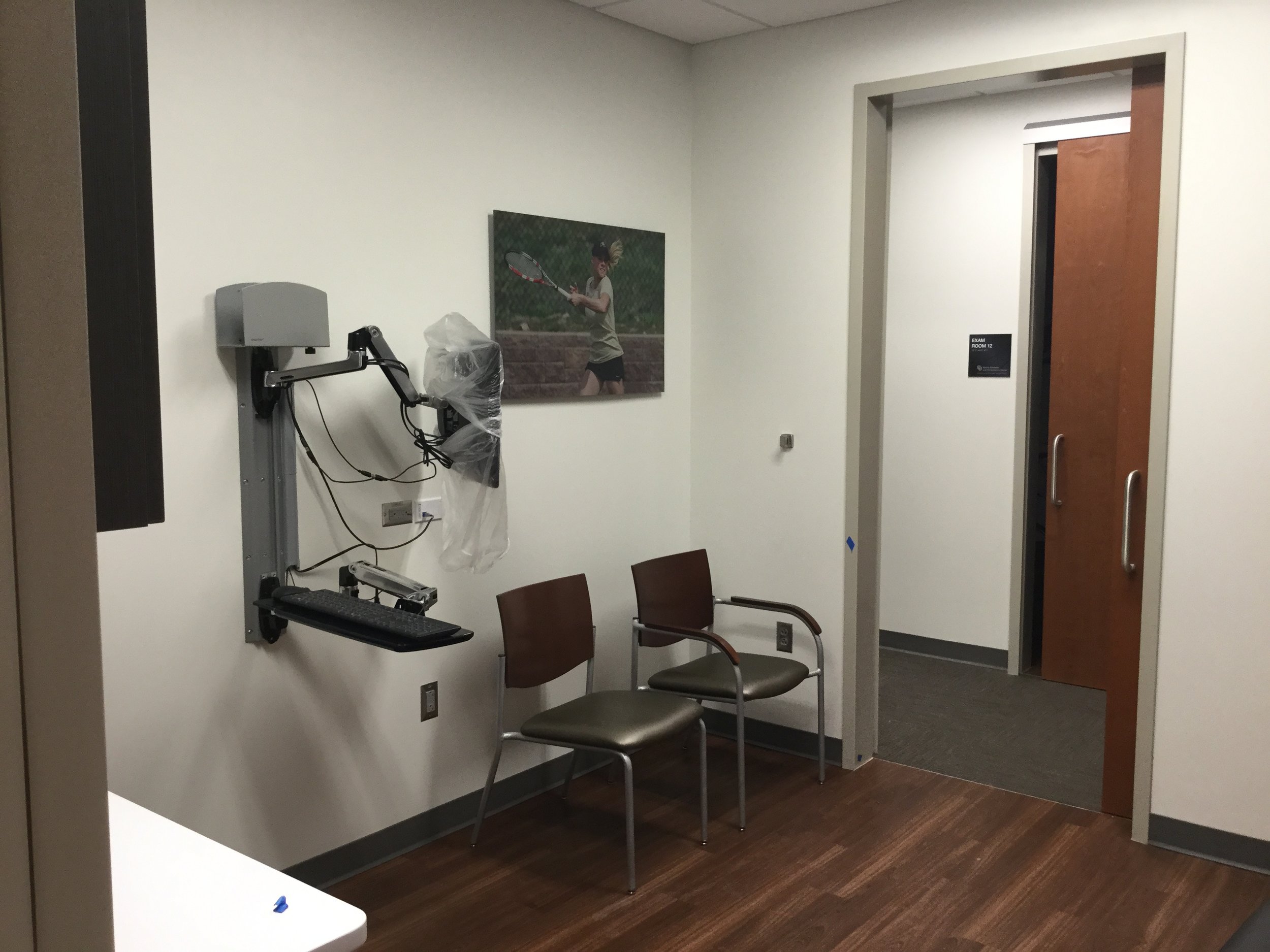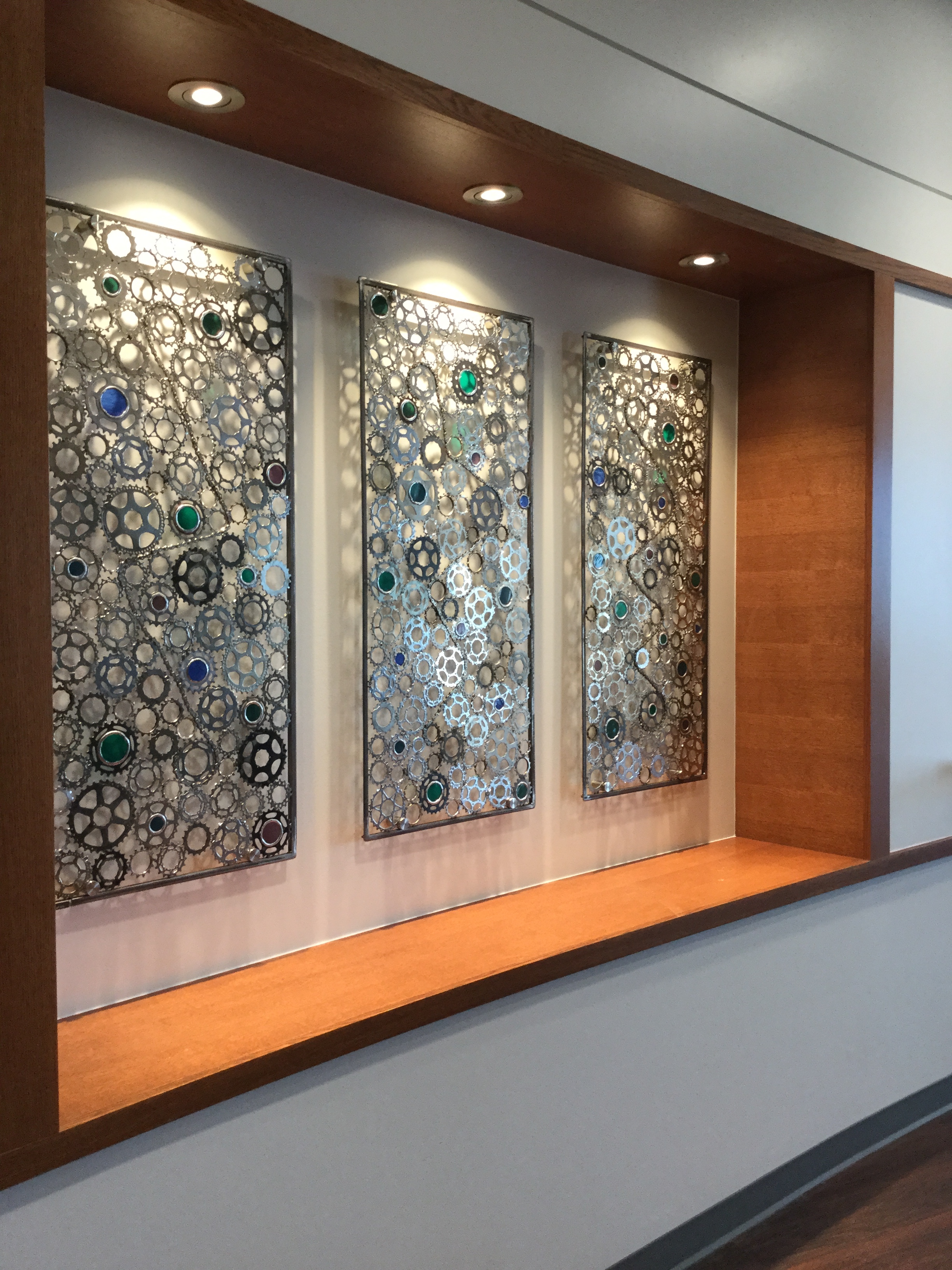 Mainstreet Pediatrics
Parker, Colorado
PS Art Consulting added vibrant art to complete the energetic and fun interiors by Design Studio Blue. Located in Parker, Colorado this pediatric start-up practice owned by Lorri Phipps embodies patient centered medicine delivered with a generous heart.